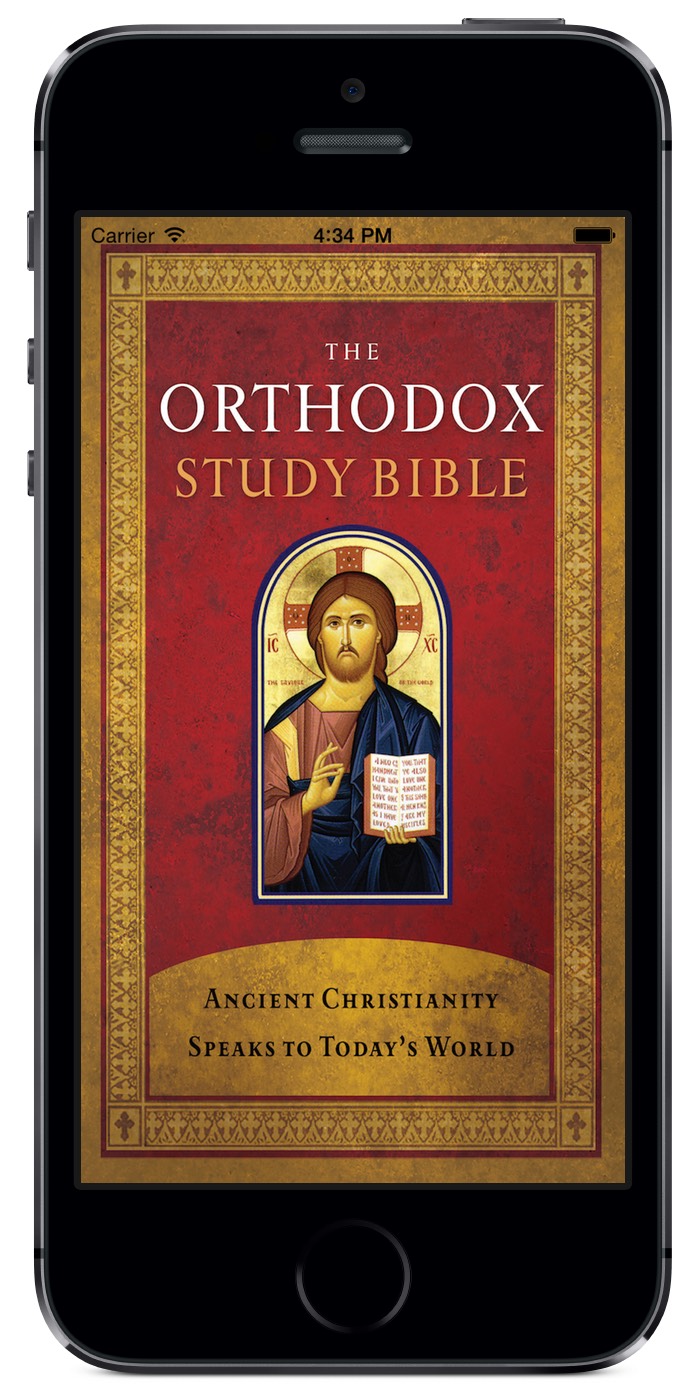 The
Orthodox Study Bible app
is available on iOS and iPadOS.
The Orthodox Study Bible presents the Bible of the early church and the church of the early Bible. This first-of-its-kind study Bible is presented with commentary from the ancient Christian perspective that speaks to those Christians who seek a deeper experience of the roots of their faith.
Old Testament newly translated from the Greek text of the Septuagint, including the Deuterocanon ("St. Athanasius Academy Septuagint")
New Testament from the New King James Version
Commentary drawn from the early Church Christians
Book Introductions and Outlines
The OSB app is powered by
VerseWise Bible
and shares the same easy navigation, reading history, search, highlighting, bookmarking and Scripture sharing.
Find it
in the App Store
.
Orthodox Lectionary
Bible in 1 year
Pentateuch
Gospels
Epistles
Psalms
Proverbs
History
Wisdom
Major Prophets
Minor Prophets
BOOKS OF THE ORTHODOX STUDY BIBLE
OLD TESTAMENT

Genesis
Exodus
Leviticus
Numbers
Deuteronomy
Joshua
Judges
Ruth
1 Kingdoms
2 Kingdoms
3 Kingdoms
4 Kingdoms
1 Chronicles
2 Chronicles
1 Ezra
2 Ezra
Nehemiah
Tobit
Judith
Esther
1 Maccabees
2 Maccabees
3 Maccabees
Psalms
Job
Proverbs of Solomon
Ecclesiastes
Song of Songs
Wisdom of Solomon
Wisdom of Sirach
Hosea
Amos
Micah
Joel
Obadiah
Jonah
Nahum
Habakkuk
Zephaniah
Haggai
Zechariah
Malachi
Isaiah
Jeremiah
Baruch
Lamentations of Jeremiah
Epistle of Jeremiah
Ezekiel
Daniel
NEW TESTAMENT

Matthew
Mark
Luke
John
Acts
Romans
1 Corinthians
2 Corinthians
Galatians
Ephesians
Philippians
Colossians
1 Thessalonians
2 Thessalonians
1 Timothy
2 Timothy
Titus
Philemon
Hebrews
James
1 Peter
2 Peter
1 John
2 John
3 John
Jude
Revelation